---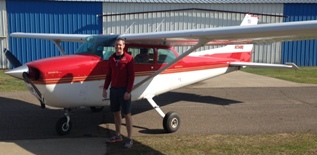 Congratulations to Cody Sessions
1st Solo in N734RQ
May 2nd 2018
---
Plane Wash
July 18th 5 - 7 PM
Plane wash Wednesday evening beginning at 5 pm.
Let's keep our planes looking good. This is a family-friendly event, everyone is welcome.
After the work is done, we will have a gourmet dinner (burgers and brats) cooked by resident Chef Okada served with a side of hangar flying.
If you are interested
come out and join us.


---
Flywell Board Meeting
July 18th 7:00 PM
Meeting will be held at the hangar. Members and visitors are welcome.
Click for Calendar.


---
EAA AirVenture Oshkosh
July 23rd to 29th 2018
---
Sun and Seaplanes Event
August 11th
Flywell Social Outing
All Flywell members are invited to the Sun and Seaplanes event. This is your chance to see if flying a floatplane is for you.
Contact Heidi Amiot for additional details


---
August 18th
Forest Lake Airport
Fly In

---