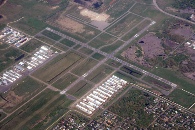 Flywell Flying Club, known as "Minnesota's Premier Flying Club", was chartered in 1963 as a non-profit social organization and it is the oldest flying club in Minnesota. Its conservative financial management has made them one of the most financially stable clubs in the state. Located at Anoka County Airport (KANE) it is approximately 20 miles north of Minneapolis under the KMSP Class B airspace. All members are equal owners of the four aircraft and the hangar.


---
Join Flywell Flying Club
The time to join us is now, we currently have a short waiting list and we can process your membership ASAP.
To join Minnesota's premier flying, club please contact: for details.
We care about you and the aircraft you fly, we welcome the opportunity to share our flying enthusiasm with you.
---
---
About Flywell Flying Club

Safety & Proficiency:
We are dedicated to promoting the safety of our members and of the flying community.
We sponsor FAA Wings safety seminars on all facets of aviation.


Our Fleet:
We have four high quality aircraft aircraft in our fleet to meet the growing needs of our members.

Our aircraft are strictly maintained by our maintenance officers.
All of our aircraft are hangared year-round.
Tanis heaters are on 24 hours/day in the winter, The aircraft are always ready to fly.
The upgrades to our aircraft never end, Upgrades are completed regularly as part of our capital improvement plan.

Our Facility:
The heated and air conditioned office is available year round
The office has many amenities including a bathroom, a telephone, Wi-Fi, refreshments, and a computer with weather and flight planning software.


Our Club:
Our core purpose is to promote general aviation safety and proficiency through safety programs, sound management and our excellent aircraft and facilities. With your interest in mind, we have worked over the years to build Flywell into Minnesota's premier flying club.


Give us a call to arrange a tour of our facility and aircraft.
---
One mile of highway takes you one mile
but one mile of airport runway takes you anywhere in the world.
-AOPA Airport Support Network Website

© 2006 - 2018 Flywell Flying Club - All rights reserved.